The C18 column is probably the most popular type of column for high-performance liquid chromatography (HPLC). Providing robust performance for analysis of a wide variety of compounds, C18 has been used in pharmaceuticals, materials, food, environmental, manufacturing, and other industries. C18 columns constitute a mainstay in many analytical chemists' inventory for testing.
This article gives an overview of C18 columns - the chemical properties of the C18 functional group and the various types of C18 HPLC columns available.
C18 is shorthand for the octadecyl alkyl substituent, which is a straight 18-long fully saturated carbon chain. Functionalized to silica gel, it is called octadecylsilyl and commonly referred to as ODS.
C18 exhibits the typical features of the alkyl group - non-polar and ionically inert in most common conditions. Retention from a C18 stationary phase comes from weak van der Waals intermolecular force that attracts hydrophobic compounds. C18 together with other alkyl phases such as C8 and C4 constitute the most fundamental type of reverse phase HPLC. C8 and C4 have fewer carbon constituents in their alkyl chains and thus provide less attraction towards hydrophobic compounds. Compounds are commonly tested if they will separate sufficiently on C18, C8, and C4 phases first before moving on to other phases.
C18 has been functionalized on many different kinds of silica gels. A wide variety of HPLC columns have been developed for the analysis of many different analytes. Pore design of these columns vary significantly in terms surface area, pore volume, pore diameter, and other parameters. We discuss different types of C18 columns here.
The most common application of C18 phase is the analysis of small particles which have <5,000 Da molecular weight. These columns are called small or narrow pore C18 columns. These columns feature a pore diameter that is usually around 8-12 nm which leads to exclusion of large particles from the pore volume. Column performance is dependent on how well the bonded phase is functionalized to the silica gel - the amount of C18 groups on the phase or carbon load, the bonding type of the C18 group, and how well residual silanols have been end-capped.
InertSustain C18 from GL Sciences is a narrow pore column featuring all the modern technologies for C18 HPLC columns. At a 10 nm pore size with a 14% carbon load, it is especially suited for the analysis of many small particles. A new surface modification method provides InertSustain C18 with a uniformly bonded phase and high degree of end-capping allowing high inertness, high efficiency, and wide pH compatibility for a wide range of analyses.
Samples analyzed using mobile phases with higher aqueous content are usually difficult to separate using a normal C18 column. The usual cause is the C18 groups preventing access of the water molecules into the pore volume in a phenomenon called phase dewetting. Aqueous C18 columns are designed to tackle this problem by having some phase modifications such as a slightly lower carbon load than normal C18 columns.
InertSustain AQ-C18 is a modified version of InertSustain C18 designed for water-rich mobile phases. InertSustain AQ-C18 has a different bonding scheme than InertSustain C18 allowing it to provide retentivity for basic, neutral, and acidic compounds even with a 100% water mobile phase.
For faster chromatographic runs, C18 columns with larger pore sizes and lower carbon load are employed. These fast or rapid C18 columns allow for shorter analyte paths through the column for quicker runs. The sacrifice is that peaks are closer in results, making it crucial to have a well-bonded phase in order to preserve comparable peak shapes with non-rapid C18 columns.
For faster chromatographic runs, check out InertSustainSwift C18. InertSustainSwift C18 has a larger pore size (20 nm) than InertSustain C18. Using the same modern silica modification technology as InertSustain C18, InertSustainSwift C18 can process runs faster while preserving relative peak distances and peak shapes.
For large molecules such as proteins and peptides, wide pore C18 columns are used. The pore sizes of these columns are even larger than fast columns, usually around 30 nm. Unlike fast columns, however, the large pore size exists not for a quicker run time but for large molecules to be able to access the pore volume. Good wide pore columns will feature good phase definition in order to deliver excellent analyte resolution.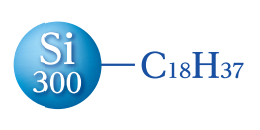 Inertsil WP300 C18 is a 30 nm wide pore column designed for analysis of biomolecules such as proteins and peptides. Inersil WP300 features the same silica technologies such as excellent phase bonding and high-degree of endcapping to deliver the same column performance as narrow pore columns for large molecules.
There are other C18 phases that exist with modified phases for specialized applications such C18 modified with additional functional groups for enhanced steric selectivity or have interspersed ionizable groups for mixed-mode interaction. For more, check out GL Sciences' full selection of C18 columns.
| | | | | | | | | | |
| --- | --- | --- | --- | --- | --- | --- | --- | --- | --- |
| Column | Features | USP Code | Particle Size (µm) | Pore Size (nm) | Surface Area (m2/g) | Carbon Loading | End-Capping | Inertness | Recommended pH range |
| | First choice with ultra-high inertness and high durability | L1 | 2, 3, 5, 10 | 10 | 350 | 14 | Yes | ★★★★★ | 1 - 10 |
| | First choice for high polar compounds | L1, L96 | 1.9, 3, 5 | 10 | 350 | 13 | Yes | ★★★★★ | 1 - 10 |
| | First analysis with ultra-high inertness and high durability | L1 | 1.9, 3, 5 | 20 | 200 | 9 | Yes | ★★★★★ | 1 - 10 |
| | Analysis of anionic highly polar compounds | L1, L78 | 3, 5 | 20 | 200 | 8 | Yes | ★★★★ | 1 - 9 |
| | For peptides and protein with 200Å pore size | L1 | 1.9, 3 | 20 | 200 | 9 | Yes | ★★★★★ | 1-10 |
| | Ideal for analyses requiring a high number of theoretical stages | L1 | 2.6 | 9 | 200 | 15 | Yes | ★★★★ | 1 - 10 |
| | Ultra-high retentivity, High-density bonding of C18 phase | L1 | 3, 5 | 10 | 450 | 23 | Yes | ★★★★★ | 2 - 7.5 |
| | Ultra-high inertness, High plate count, Medium retentivity | L1 | 2, 3, 5 | 10 | 450 | 11 | Yes | ★★★★★ | 2 - 7.5 |
| | Inertsil ODS-4 Validated column | L1 | 3, 5 | 10 | 450 | 11 | Yes | ★★★★★ | 2 - 7.5 |
| | Strong retentivity, Lower column backpressure, Very inert | L1 | 2, 3, 4, 5, 10 | 10 | 450 | 15 | Yes | ★★★★ | 2 - 7.5 |
| | Inertsil ODS-3 Validated column | L1 | 3, 5 | 10 | 450 | 15 | Yes | ★★★★ | 2 - 7.5 |
| | Weak retentivity, for hydrophobic compounds | L1 | 3, 5 | 10 | 450 | 8.5 | Yes | ★★★★ | 2 - 7.5 |
| | High steric selectivity | L1 | 3, 5 | 10 | 450 | 29 | None | ★★★ | 2 - 7.5 |
| | A polar functional group embedded | L1 | 5 | 10 | 450 | 9 | None | ★★★★ | 2 - 7.5 |
| | Analysis of high weight molecules | L1 | 5 | 30 | 150 | 9 | Yes | ★★★★ | 2 - 7.5 |
| | Ultra-pure silica gel is used | L1 | 5 | 15 | 320 | 18.5 | Yes | ★★★★ | 2 - 7.5 |
| | Inertness 1st generation | L1 | 5, 10 | 10 | 350 | 14 | Yes | ★★ | 2 - 7.5 |
Stereoselectivity vs. Relative Retention of GL Sciences Reverse Phase columns
C18 HPLC Columns Applications
Here are a few applications for several compounds for C18 columns: